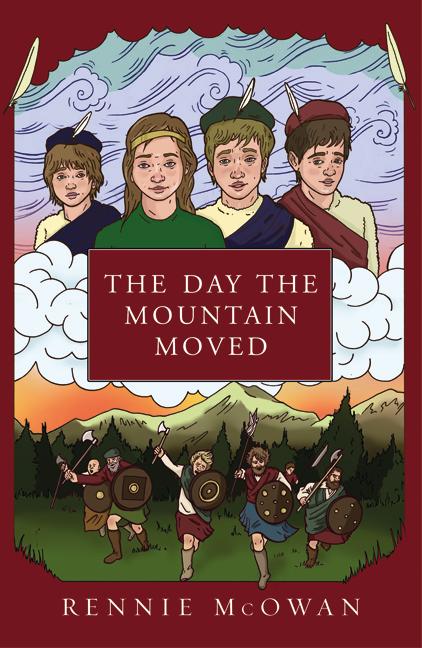 The Day the Mountain Moved
Rennie McOwan (Honorary President of the Friends of the Ochils)
Rucksack readers
Book 3 of Rennie's Dumyat quartet is out now . The Day the MountainMoved features the heroes of Light On Dumyat and The White Stag Adventure – The Clan – Gavin, Clare , Michael and Mot.  The book is stocked by Waterstones -Stirling , Amazon and all good bookshops and of course by www.rowantreepublishing.co.uk
Light on Dumyat
Rennie McOwan (Honorary President of the Friends of the Ochils)
Rucksack readers
A brand new edition of the classic children's adventure novel set in and around the Ochils. Ideal for children of 9 and upwards Light on Dumyat combines survival skills, environmental awareness and mysterious events.  In an era of increasing concern over children being over-protected this adventure story has new relevance.  Above all it's a 'cracking good read'.
Bonanzas and Jacobites
Stephen Moreton
National Museums of Scotland, 2007
This is the true story of Scotland's richest silver mine at Alva, Clackmannanshire.  Its discovery in 1715, coinciding with the Jacobite rising, led to an extraordinary sequence of events involving fortunes made and lost, intrigue and betrayal, and a diverse cast of characters including Sir Isaac Newton.
The Ochils, Campsie Fells and Lomond Hills: 33 walks in Scotland's central hills
Patrick Baker
Cicerone, 2006
A hillwalking guide with 20 walks in the Ochils. Well-illustrated and with map extracts to show the walks. Enthuses about their sense of remoteness even though very accessible to a large population. Marred by a small number of incorrect navigational instructions.
Well Sheltered and Watered: Menstrie Glen, a farming landscape near Stirling
Royal Commission on the Ancient and Historical Monuments of Scotland, 2001
A thriving population ocupied Menstrie Glen prior to the plough giving way to sheep in the late 18th century.  The journal of James Wright of Loss and detailed modern archeological field survey are brought together in this superbly illustrated book to tell the story of the transformation of Menstrie Glen.
Blairlogie Boyhood
Robin A. Kelsall.
Self-published, 1999
In 1969, the tiny village of Blairlogie became Scotland's second ever conservation area. Blairlogie Boyhood predates that accolade and is a description of life (from a child's perspective)  60-plus years ago.
Experiencing none of the threats posed by the excesses of today's traffic and the actions of some in today's society, children of that generation had much more freedom than those of today;  especially in an idyllic wee place like Blairlogie. To the author and his friends, the carse, the village and the hills behind formed a giant playground and, as confidence and ambition grew, there were expeditions to the summits above – Goats' Craig, Castle Law and Dumyat – each furnishing young eyes and imaginations with views to far horizons not readily available to many children. When weather and time warranted, the long hike to Sheriffmuir's Paradise Pool was one of summer's great delights.  Blairlogie Boyhood is full of such reminiscences.
The Ochils: Placenames, History, Tradition
A Watson
Perth & Kinross District Libraries, 1995
An illustrated gazetteer of the placenames of the Ochils from Sherrifmuir to east of Glen Farg, covering the ground above 70-100 metres, not including the fringing settlements.  Hundreds of entries, from Abdie Church to Upper Yetts, illuminate the history of the hills and their use as well as their names.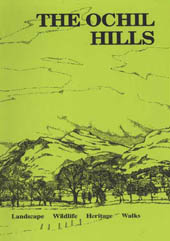 The Ochil Hills: An Introduction: Landscape, Wildlife, Heritage, Walks
L Corbett, EK Roy, RC Snaddon
Forth Naturalist and Historian/Clackmannanshire Field Studies Society, 1994
The extended title says it all! Almost wholly concerned with the Ochils west of Glen Devon and particularly with the  Clackmannanshire and Stirling parts.  Includes geology, climate, natural history, human history, placenames and walks in Alva Glen, Menstrie Glen, and Dollar to Glens Quey/Devon. Illustrated with many diagrams and drawings and some photographs.
Walks in the Ochils
R Bernard
Clackmannan District Libraries, 1984
A short collection of personal accounts of walks in the Ochils west of Glen Devon by a now-deceased local hill man. Topography, history and natural history mingle fluently. Originally published as newspaper articles.
The Ochil Hills
Drew Jamieson
Paperback. 97 pp. 42 B/W Illustrations. Amazon: £9.90 Direct from author @ £8.00 email: [email protected]
Local resident and founder-member of Friends of the Ochils – Drew Jamieson – has recently published a detailed geography of the Ochil Hills.
Drew describes the Ochil Hills as a "Special Place". They dominate the northern horizon of the Central Belt of Scotland and provide a scenic gateway into Perth and Kinross. They stand proud above the surrounding lowlands reaching the highest point in Central Scotland – Ben Cleuch. This book highlights some of the challenges and suggests some opportunities for the numerous agencies and stakeholders to work together to create a special vision for this "Special Place".